SACCOs are accelerating their digitisation to respond to a growing need for financial inclusion. Giving members access to the financial services they are looking for is the main focus for SACCOs in a context where physical branches are not always accessible.
According to Statista, as of 2019, the number of credit unions in Africa and Asia was markedly higher than in other regions of the world, accounting for almost 90% of the total number of credit unions worldwide.
Cyrus YIDAH (CEO of Coretec) and Charles NGUEUGA (Head of Business Development- Africa at ERI) discuss how the partnership between Coretec and ERI can support the challenges credit unions and SACCOS are facing in Africa and also what predominant role technology can play in developing their businesses by addressing underserved customers to make sure members are given the right service at the right time.
What in your opinion are the main challenges SACCOS have been facing since the beginning of the pandemic?
Cyrus YIDAH: We have witnessed a rise in the demand for fully digitised services. However today SACCOS are still mainly relying on manual intervention and processes such as loan approvals which can become burdensome and time consuming with a high risk of errors. This is hindering their potential for innovation and therefore their growth. SACCOs are also very much impacted by compliance requirements issued by regulatory bodies such as SASRA. Besides this cybersecurity remains high on their agenda while they also need to closely monitor and prevent any fraudulent activities.
Charles NGUEUGA: SACCOs want to offer their members more convenient services however, the time of traditional banking with branches is over. On the other hand reaching out to the unbanked population is a real opportunity for growth. Facilitating paperless transactions, savings or pension procedures are pivotal to address those new needs, they are however facing strong competition from new entrants like digital lenders or telco providers benefiting from proven technology and expertise.
So does that mean that SACCOs will have to review their operating models?
Charles NGUEUGA: Well not necessarily review but they will have to adapt or disappear. They will need to onboard relevant technology that will embrace and enable their growth strategy. This will give their members greater transparency thanks to more structured communication and streamlined end-to-end workflows and processes.
Cyrus YIDAH: Decentralised finance has forced SACCOs to optimise their operations. Better data management and reporting capabilities have become crucial. To achieve operational efficiency SACCOs will need to be supported by a comprehensive and integrated core banking system capable to adapt with agility to market changes but being robust enough to eliminate complexity and ensure 24/7 business continuity with unbreakable security.
And what about their members, what has changed in their expectations and behaviours?
Cyrus YIDAH: Keeping up with the ever-changing customer demands and market trends is a tough task for SACCOs. In fact they need to rethink their customer journey and build a client-centric experience at each step of their members' interactions with their services or products. Adapting their business models will enable SACCOs to deliver targeted products and services faster at a lower cost.
Charles NGUEUGA: Accurate data at the right time will enable SACCOs to better understand their members and therefore harmonise and create personalised user experiences. Consolidating and analysing data to respond to client-specific needs, will help increase customer acquisition and loyalty thanks to a quicker, smoother experience regardless of the channel used.
What kind of impacts will technology have on SACCOS and their members?
Charles NGUEUGA: The right technology firstly gives a 24/7 branch experience to the member, besides this, simplifying and automating workflows will improve employees' productivity and, by driving automation at scale staff will focus on the key business objective: member satisfaction. The core system's service oriented architecture integrates third party applications thanks to APIs. Data will be shared and managed in a fully secured environment through a unified database as the single source of truth so that SACCOs can stay in control and ensure data consistency. Members will therefore benefit from a seamless customer support with a reduced response time.
Cyrus YIDAH: The relevant solution, an integrated, real-time core leveraging the latest technologies will help SACCOs keep control of their operating costs. Cost can be mutualised, this being the basis of the SACCOs business model, and meaning the sharing of implementation cost. Automated and streamlined processes will enable SACCOs to better monitor loan defaulters by anticipating these well in advance thanks to the core system real-time capabilities. And very importantly SACCOs will be able to mitigate risks, risks of human errors but also compliance risks by automatically embedding regulatory constraints into workflows.
The solution is to rely on technology to simplify the complex. That is the goal of the partnership between ERI and Coretec. The partnership takes Coretec's digital lending, mobile, agency and ATM banking capabilities and integrates them with ERI's OLYMPIC Banking System. The result addresses SACCOs' needs to automate, secure, and manage their members' data and activities. We will help SACCOs streamline their business, reduce their costs and modernise their processes while bringing additional value to their members.
Charles Ngueuga is a financial sales executive with more than 20 years' experience. He is Head of Business Development – Africa at ERI. He is tasked with extending ERI's footprint in Africa with the OLYMPIC Banking System, the award-winning core banking system. Before joining ERI, he worked as an Associate Partner and Director for Africa at FICO, the leading analytics software company, where he built their regulatory compliance business in Africa. He also worked as a Vice President, European Sales at Statestreet Bank, the American custodian with residence in Frankfurt. In both Frankfurt and London, he worked for Thomson Reuters as Market Data Senior Consultant for some major European Banks like Commerzbank or Deutsche Bank. He is passionate about Africa and the challenge of the financial inclusion of the continent.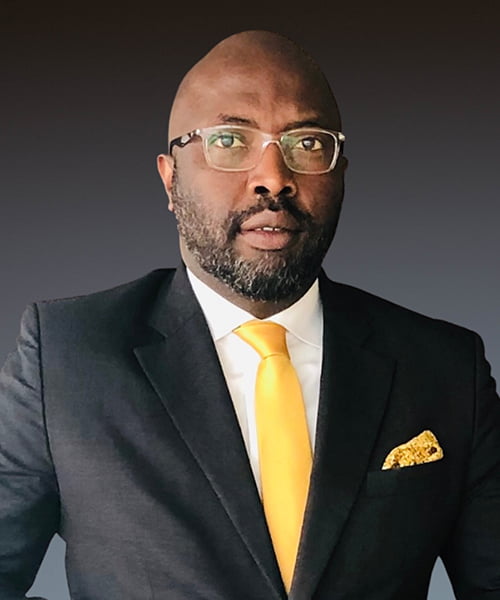 About Coretec Solutions Africa
Coretec Solutions Africa is a team made of experienced professionals whose mission is to make people's lives better by helping SACCOs grow, as we fully understand the vital role of co-operative societies in Africa.
We've been providing SACCOs with digital solutions to help them overcome challenges as well as provide better services to their members for over 20 years.
Given that new challenges arise from time to time, it has been a roller coaster and a learning curve for us which makes us the pioneers and still the leading organisation in digital solutions for SACCOs in Africa. We've been at the frontline of enabling SACCOS comply with regulatory authorities while increasing revenues, deposits, and memberships with reliable technology solutions.
For 11+ years, Cyrus Yidah has been working with SACCOs by helping them come up with technologies that enable them solve challenges and achieve their goals.
Cyrus has been on the frontline in automating SACCOs processes through reliable technologies and more than half of the tier 1 SACCOs in Kenya today can bear witness as beneficiaries of the solutions. He has actively led successful projects in which SACCOs boosted their revenues by 60% and improved their customer experience by more than 80% through digital solutions.
With vast experience in the industry, not only in Kenya but also in Uganda and Nigeria, where he worked as Technical Lead for SACCO ERP solutions in Coretec's journey to digitising SACCOs for better performance and service delivery to members, this makes him an industry thought leader.
He is well-known for being customer-centric and an analytical leader and his work has provided majority of SACCOs profound reasons to be proud of their achievements in automation.