Client and FI perspective
A lot is said (and rightly so) about the growing needs and expectations of clients: the daily demands for speed and flexibility to support their fast-paced lives, the requests for more holistic services that help them plan towards their long-term life goals, the push for autonomy and a seamless experience across channels, and the overarching desire for transparency and simplicity.
We are all clients ourselves after all, so there shouldn't be too many surprises when it comes to understanding these needs and setting down the vision as advisors and service providers.
However, for financial institutions, there's still much to do, even after the acceleration during COVID-19, and it's broadly accepted that service models will need to transform in order to satisfy these client expectations longer term. Adapting to new ways of working, through digitalisation across the service model, will also help institutions meet their environmental targets, reducing the impact on the planet of business.
There's a lot at stake for businesses here, but the rewards can be great too – new clients, more effective client engagement and insights, more automation and efficient end-to-end processes, more time spent on value-added services, opportunities for more diverse propositions – so adopting a holistic omnichannel approach should be the focus here over one that looks to tackle digitalisation in isolation. Financial institutions that move to a joined-up client-centric model are able to realise these front-to-back operational efficiencies as a natural outcome.
This is the exam paper that firms must use to test and evolve their value proposition and services – highlighting growth areas and reviewing segmentation, engagement strategies, technology requirements, etc. – the time for change is now and change is here to stay.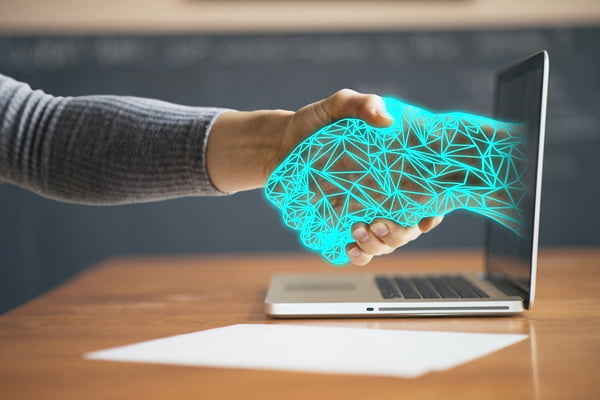 Challenges and opportunities
Ambition is the key to success.
Institutions that strive to offer a connected, coherent experience to all participants – clients, advisors, employees and partners – will be far better positioned for success, with the capability to manage client journeys across channels and direct requests to the right place at the right time. Adopting a joined-up approach brings together the benefits of human interaction with the support and enablement of technology to ensure client needs are addressed consistently and in the best possible way throughout their lifecycle.
Beyond the tactical changes that have been forced upon many firms over the last year, businesses need to review their strategies again to ensure that their operating models and end-to-end technology are fit for purpose and able to support their clients' long-term expectations.
A failure to connect the business internally and externally will often result in operational silos, breakdowns in communication, and increased workloads further down the chain, which will frustrate clients and eat away at profits.
With a progressive strategy in place, an institution can more easily flex its service model to meet the future demands on the business. Businesses don't stand still, so flexibility, control and the ability to continuously evolve the model are essential.
Putting the foundations in place to deliver the key principles
For many, a successful hybrid model is one that achieves the optimal blend of digital and human services, allowing clients to benefit from greater transparency and access to insights whilst freeing advisors from many of the administrative tasks that are common with traditional service models.
Others would add the importance of managing and engaging with clients holistically, being able to offer them a connected and consolidated view of services that ensures consistency and relevance and builds trust.
These perspectives highlight the overall need for a joined-up approach that aims to simplify and connect the business to a much more open world. A successful hybrid model is more than just digitalising parts of the process to ease workloads; it's also about enabling clients to autonomously and proactively take part in the management of their wealth, enabling faster decision-making thanks to insights being available on demand, and providing a more flexible connection with their advisor.
Overall success can be measured in many ways – by client growth, market position and recognition, assets under management and performance, advisor and employee satisfaction, etc. – and a successful hybrid model is only as good as the foundations on which it is built. Without these in place, a business is at risk of being left behind.
Paul Driver
Sales Manager, UK, Ireland & Caribbean